WRITING FOR THE WESTERN MAIL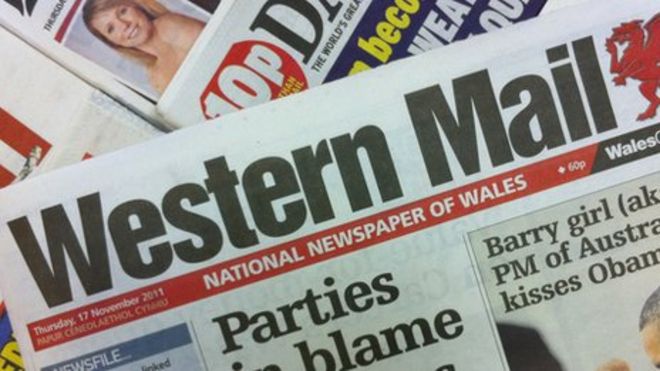 Last month, I realised that I had been writing this business column in the Western Mail for sixteen years, which equates to over 830 articles since January 2004.
Whilst I am often asked how I come up with a new column every week, the answer is relatively easy in that I tend to have at least at least ten different potential areas of interest on the go at any one time and if they are relevant to other news within the press, then I will turn my notes into an 800-word piece.
However, occasionally the 'awen' does overtake me and I can knock out a column in around half an hour but whether it makes any sense is another matter entirely!
Reflecting on some of the areas that have been covered since I started writing back in 2004, one that regularly concerns many businesses is that of public procurement and its potential positive effect on the Welsh economy.
Indeed, I noted in one of my first articles that public procurement was one place "where the Assembly Government can possibly make a real difference to the development of Welsh businesses. The public sector in Wales currently spends approximately £3 billion on services, although very few small firms seem to be able to access this.
Certainly, if we could improve the process whereby local firms could be supported in accessing public sector contracts, the impact would dwarf the effect of the £60 million in grants awarded by the Assembly Government annually".
Fast forward to 2020, this is still a burning issue for many. That was made clear when I was honoured to give an address to the North Wales Business Club last Thursday on some of the challenges facing the local economy.
I emphasised that of the most important ways in which the public sector can support SMEs is through public procurement. For example, whilst the latest statistics show that the twenty two local authorities have a revenue expenditure of £8 billion (excluding debt financing costs) and £1.5 billion in capital expenditure, there is no detailed analysis of how much of this is actually spent with local firms.
That is not to say that they do not spend a significant part of these budgets with Welsh firms but the evidence is simply not there although what data is available is not that hopeful.
For example, recent statistics have shown that construction contracts with a total aggregate value of £1.94bn have been awarded by Welsh public bodies since 2015, only 17.1% of the total value was awarded to firms with a Welsh-registered address.
This suggests that the foundation economy which includes local building firms and is being targeted for support by the Welsh Government could be boosted through better public procurement. Indeed, evidence from the Federation of Small Businesses shows that for every £1 local authorities spend on goods and services with local SMEs, an additional 63p is generated for the local economy.
Of course, those defending the status quo will argue that there is no urgency given that over half of public sector expenditure currently goes to "Welsh" firms although there is no indication of how many of these are small local firms employing local people or merely businesses with a convenient Welsh billing address. Given the importance of this issue in developing local economies, it shouldn't be too difficult to undertake an exercise to determine these facts.
As In addition, local authorities (as well as the rest of the public sector in Wales) could become far smarter at expenditure with local businesses in range of ways not currently being done. These could include utilising better use of data and analytics, applying best-value strategies, adopting solutions-based contracts, looking at new types of contracting vehicles and forging of closer relationships with local suppliers.
But more effective procurement can not only have benefits through better use of spending by the public sector but also through better purchasing practice within SMEs themselves.
With business productivity in Wales the lowest of any part of the UK, there is a strong case for improving the efficiency of smaller firms by saving money on every day running costs both as individual companies and potentially together. This can be done by getting small firms to focus more on running the business rather than running costs by utilising local procurement portal services to save costs.
Alternatively, businesses should be encouraged to work together collaboratively and developing a consortia approach in either similar or different sectors but buying the same products or services. This would fall into either supporting them with negotiations for imported products and services or enabling them to work more closely with other Welsh suppliers that to help organisations to grow throughout the Welsh supply chain.
Therefore, procurement may not be the sexiest of subjects as compared to entrepreneurship, innovation and internationalisation. However, it is as important to the development of the SME sector in Wales not only in making sure more of the Welsh public sector pound is spent here with local firms but in ensuring that those local firms, once they receive that pound, spend it efficiently themselves to improve their productivity and, ultimately, that of the Welsh economy.
.