THE SCOTTISH NATIONAL INVESTMENT BANK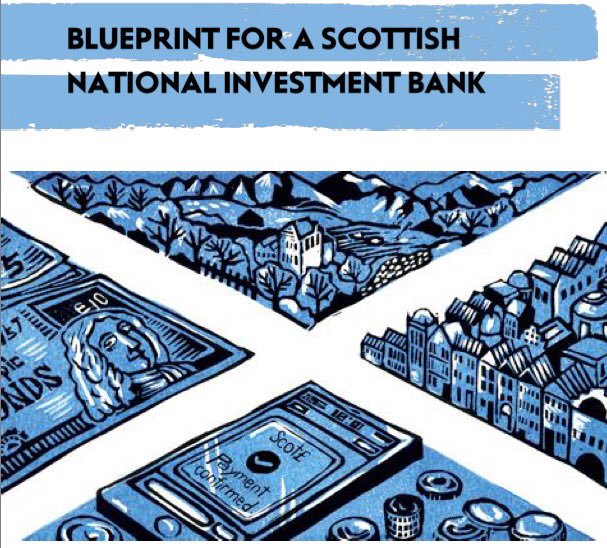 I was delighted to accept an invitation to discuss the imminent creation of a new Scottish National Investment Bank with some its key advisers.
The new bank is being created by the Scottish Government which has committed to give it £2 billion over 10 years to provide both debt and equity financing but with a focus on long-term patient capital (typically over 10-15 years). It will start investing in Scottish businesses and communities in 2020 and provide capital for business and infrastructure projects at all stages in the investment life cycle.
What is interesting and ground-breaking about the strategy of this new body is that it will take a mission-based approach to investment i.e. Scottish Ministers will set the strategic direction of the Bank by identifying a set of medium-term outcomes for its investments such as transitioning to a low carbon economy; responding to demographic change; and promoting inclusive growth through place-making and regeneration.
This will obviously be complemented by its principal purpose namely investing in an inclusive and sustainable economy and helping to develop the activities of small and medium-sized enterprises.
But the advisers the bank are keen to learn from other experiences hence their request to come and discuss why and how we established the Development Bank of Wales (DBW) through the task and finish group I chaired for the Welsh Government.
Whilst I will be discussing some of the key findings of our report and the processes which we went through, the proof of change is, as ever in the pudding, and the recent results from DBW show that not only is it going from strength to strength in supporting the SME community in Wales but that the vast majority of the recommendations we made have been implemented by DBW's new management for the benefit of the Welsh business community.
The good news is that in the financial year ending 31st March 2019, the DBW invested a total of £80 million, 18 per cent higher than the year before. More importantly, the number of actual investments increased by 30 per cent to 420 across Wales during that year. Much of this is down to the fact that the bank is no longer dependent on European funding and has bene able to draw down directly on government funds which has given it flexibility in the range and cost of finance to Welsh SMEs.
Given that the task and finish group had suggested an increased focus on microloans (and speeding up the process for approval), it is heartening that the majority of DBW's loans last year were in this category. And the improvements in the processes for microloans has meant that funding of between £1,000 and £50,000 is now easier to access and businesses that have been trading for two years or more are benefitting from speedier decision making and significantly less paperwork with some lending decisions being made within 48 hours.
One of the other key recommendations from the DBW Task and Finish Group was to replace xenos – the business angel arm of Finance Wales - with a new organisation which would be more akin to the successful models of informal investment found in Scotland.
As a result, Angels Invest Wales has been launched alongside the £8m Wales Angel Co-Investment to give access to more than 100 angel investors and syndicates through its online platform.
One of the real challenges identified in providing loans to small companies by in various access to finance reports for the Welsh Government was the issue of affordability with the standard five year term provided by high street banks and Finance Wales being too expensive at a time when firms needed to focus their funding on supporting cashflow to grow their business. The move by the DBW to extend its loan repayment terms to ten years is a long overdue but highly welcome and it is not surprising that it has an increase in demand for this type of patient capital amongst Welsh businesses.
But despite these changes, there remain considerable challenges in ensuring that access to funding continues to improve although some of these not directly related to DBW itself but to the entrepreneurial ecosystem in Wales.
For example, whilst the bank invested £21 million in equity investments last year, a third of these were within Cardiff and there is certainly more that can be done to boost participation by businesses in this kind of funding, especially in other parts of Wales.
Indeed, Giles Thorley (the bank's chief executive) recently pointed out that weaknesses such as low number of university spinouts in Wales and low entrepreneur awareness of equity funding opportunities across Wales need to be addressed as a priority by institutions and policymakers including the DBW itself.
Therefore, the latest performance data from the DBW shows that it has made great strides in the breadth and depth of its offerings since it replaced its predecessor Finance Wales. As the first regional development bank in the UK, it will certainly set the benchmark for others to follow and it will be fascinating to see how our Celtic cousins in Scotland develop their solutions to improving access to finance for SMEs over the coming years.